We are an accredited calibration laboratory
Sartorius Croatia - Libra Elektronik d.o.o., Calibration laboratory for scales, weights and pipettes, is an accredited calibration laboratory according to the standard HRN EN ISO/IEC 17025:2017 by the Croatian Accreditation Agency in the area described in the appendix to the Accreditation Certificate No. 2287. The laboratory started working in 2010, since when it has been continuously improving its services and raising the quality of the entire business, with equipment and technology that follow modern requirements in the field of metrology. Laboratory services are performed by our metrologists with many years of experience who are regularly educated and trained to perform services at the highest level.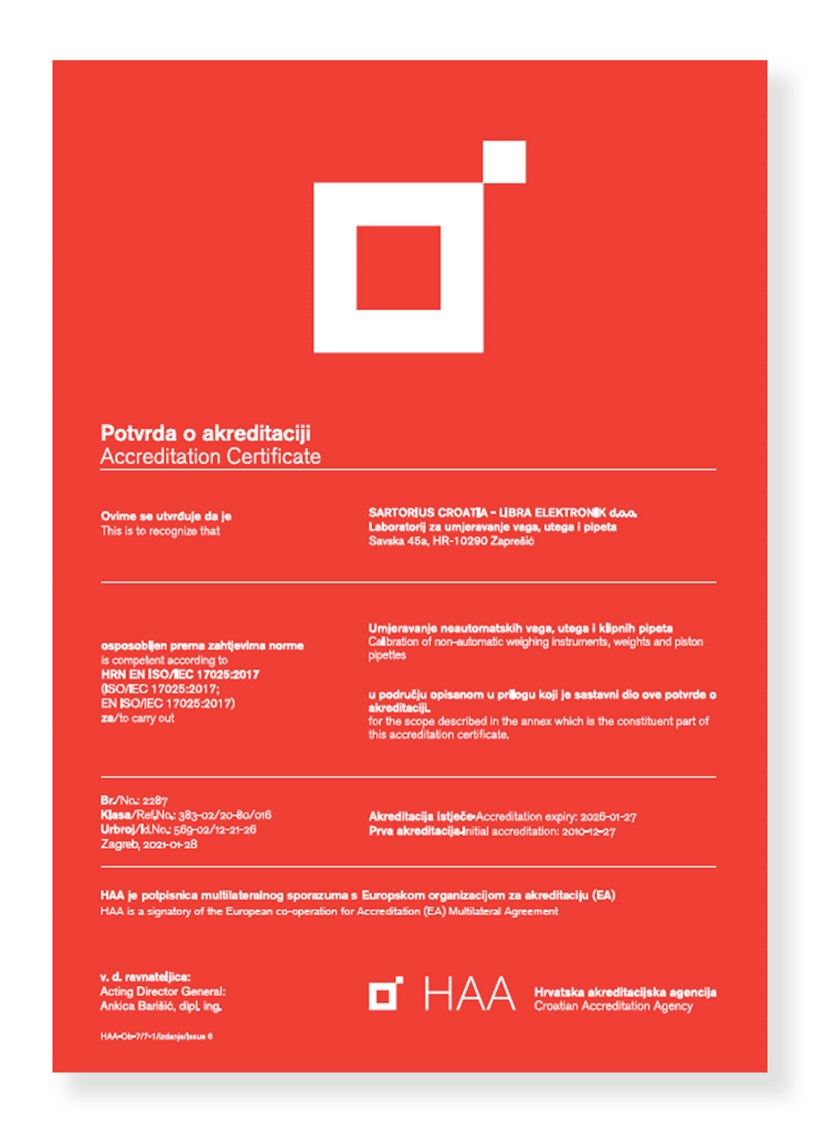 We calibrate:
Non-automatic mass devices - scales - up to 3 T
Weights of class E2 from 1 mg to 10 kg, F1, F2, M1, M2 and M3 from 1 mg to 20 kg
Piston measurement devices (pipettes) - volume up to 20 ml
Latest calibration technology
One of the benefits of our calibration laboratory is the use of the latest technology to ensure that your devices are accurate and correct. In addition to existing calibration devices, we use our new myScal® software solution. This unique metrology tool enables complete management of laboratory equipment and calibration procedures of measuring instruments. With myScal® software solution, we have provided our customers an insight into the list of their laboratory equipment and the history of calibration, as well as digital management of e-calibration certificates that we send to you when calibration is complete.
Other calibrations
Besides calibrating these devices, our laboratory can meet many other calibration requirements in the field of mass and volume, which may not be calibrated in an accredited way. If you have a specific inquiry or measurement device, contact us and we will try to find together the right solution for you.